Pay their Way
Copayment Assistance
| | | | | | | | | | | | | | |
| --- | --- | --- | --- | --- | --- | --- | --- | --- | --- | --- | --- | --- | --- |
| | Jan | Feb | Mar | Apr | May | Jun | Jul | Aug | Sep | Oct | Nov | Dec | Total |
| 2016 | 32 | | | | | | | | | | | | 32 |
| 2015 | | | | 24 | 16 | 22 | | | 29 | 15 | 22 | 37 | 128 |
| 2014 | | | | | 19 | | 28 | | | | | 33 | 80 |
| 2013 | | | | | | | | | 56 | | | | 56 |
| 2009 | | 24 | 24 | 22 | | | | | | | 39 | 36 | 145 |
| 2008 | | 25 | 32 | 25 | 33 | 40 | | | | | 38 | 21 | 214 |
| 2007 | | | | | | | 43 | | | | 28 | 35 | 106 |
| Total | 32 | 49 | 56 | 71 | 68 | 62 | 71 | 0 | 85 | 0 | 105 | 162 | 761 |
January 2016
The first copay day of this year saw 32 patients as recipients of this wonderful program. This day was held in honor of Marla with donations received in her memory. What an excellent way to start of the year!
This January copay day was the first time we have been able to hold this event during January. It is our hope to be able to hold this event each and every month of the year!
December 2015
Holiday cheer was spread at Hunterdon Regional Cancer Center when our Copay day saw 37 copays made . . . this was the most we had done in one day since we started working with Kellie & Chuck as a way to honor their loved one, Suzanne. What a great way to end our year. Without their dedication and support this would not have been possible.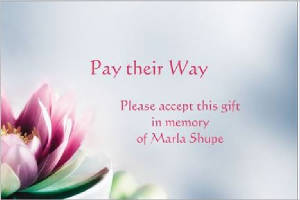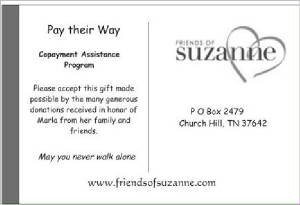 ***November 2015***
In August, Marla Shupe lost her battle to cancer. In her honor, her family requested donations be made to Friends of Suzanne for Pay their Way. On November 6th, as a way to celebrate her birthday a copay day was held. We were able to make 22 copays. The donations received provided enough funding to hold 2 copay days. We will hold the other on her wedding anniversary.
I met Chuck Kovacs at the cancer center in the early hours of the morning to set up. As we were leaving we ran into a radiation technician who knew Chuck from his time at the center with his wife. The technician told us that the patients attitudes on Copay day was amazing. They would always come back and talk about it. They were always happy and in a different frame of mind. It touched my heart knowing that the work we are doing, definitely makes a difference.
***October 2015***
On Friday October 16th Joanne Lutz, Chuck Kovacs and Kathy Koltowski sat in the lobby of Hunterdon Regional Cancer as Pay their Way was held. Upon arrival to the facility for treatment patients were given a card telling them that their Copay was being made in honor of Connie, a friend and coworker of Joanne who had recently passed away. 15 patients received copay assistance. While there Joanne, Kathy and Chuck chatted with several appreciative patients who shared their stories. One patient went in for treatment and then came back to chat again, handing her copay over for the next time.
Explaining the feeling to others is very hard. Words just do not provide an accurate description of the feeling . . . warm, fuzzy, worthwhile, humbled.
Thank you for your continued support . . .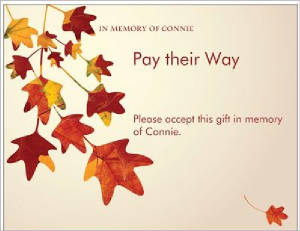 ***Sept 2015***
On September 11 as a way to honor and remember Suzanne Kovacs we were able to provide 29 copays
***July 2015***
Chuck sent me his update for copays . . . Kathy this whole thing has been amazing. Really feels like we're making a difference. We are up to 62 copays this year. We made 22 copays this time!
***June 2015***
CSK Machine, Neshanic Station made a donation to be used for Pay their Way - 16 Copays were made!
Thank you so much!
* * *May 2015 * * *


Chuck & Kellie reported. . . . on May 8th - We did another copay day today. Honoring all of the our moms. All of you who help us with our yard sale,those who donated and all of our customers make days like this possible. You all get a pat on the back for helping those in the fight. You all took part in making a difference to 24 patients and their families today. From all of them I thank u for you time and support. Happy mothers day to all the moms. Enjoy your weekend.
* * * December 2014 * * *

Thanks and kudos to Chuck Kovacs and Kellie Kovacs Valko again. Because of their labor of love we were able for cover 33 copays at Hunterdon Regional Cancer Center on Christmas eve. Friends of Suzanne is blessed to have them in our corner. Now the plans and countdown to the 2nd Annual Yard Sale where they raised $3500 last year. And remember Friends of Suzanne celebrates 10 years this year.

Good things continue to happen for those living with a cancer diagnosis because of your support.
* * * * *July 2014 * * * *
July 30th marked the first anniversary of Suzanne Koster Kovacs passing. As you know from my former posts, her husband
Chuck Kovacs
and daughter
Kellie Kovacs Valko
had a yard sale and raised over $3400 which will be used specifically for "Pay their Way". In honor of their loved one, they went to Hunterdon Regional Cancer Center on July 30th armed with banana bread and funds. 28 patients copay were made over a two day time period. You have no idea how wonderful it makes you ...feel to know that each person who is a recipient is truly touched. Stories are shared and a horrible day of chemo or radiation...or even a first visit to hear the news that you have cancer is somehow brightened. Thank you to everyone involved in this wonderful charity and program. Support is always needed. Reach out to me, Kellie or Chuck to find out how you can help. Again Kudos to Chuck and Kellie for everything they have done and for keeping this going in NJ. Appreciate ya'll!
Middlesex County
Woodbridge High School
June 8, 2010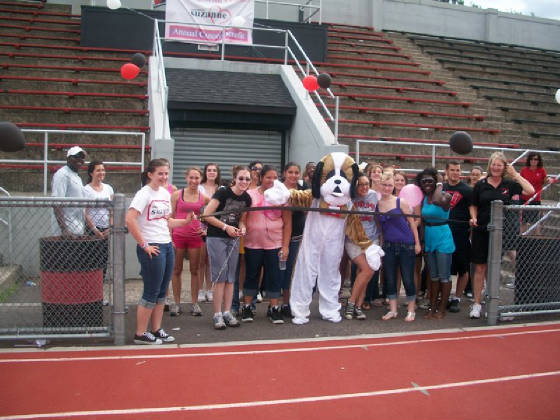 When Kate Elliott asked Principal Warren if the she could hold a walk-a-thon to benefit cancer patients, he advised her she would need a faculty advisor, and would need details prior to giving an answer.
When Kate went to Physical Education teacher, Norma Grasso with her idea, and showed her our website, she was impressed and immediately on board.
On June 8, 2010 Woodbridge High School hosted the event, with 42 students participating, as well as several faculty members.
The event raised about $800 and those funds will be used to begin "Pay their Way" at Robert Wood Johnson's cancer center.
Thank you to the Barron's for their hospitality,
Mr Warren and Ms Grasso,
all of the faculty and students who helped make the day a success!
We are honored, and excited at our expansion into Middlesex County!
Please mail your donations to:

Friends of Suzanne

P O Box 2479

Church Hill, TN 37642

Together we can make a difference to those who are dealing with cancer and its affects on their lives.

mail your inquiries to info@friendsofsuzanne.com
. . .