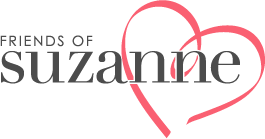 5th Anniversary
Cancer Benefit
How do we begin to thank everyone who came out today, in support of the cause? The board, the donors, the patients, their families, the friends, the crafters, the musicians, the Zumba Instructors, the artists who donated our "hourly give-a-ways" including Ray Perry and Kelly Young; Pizza Como for the "six foot subs"; ShopRite of Clinton for our bottled water, juice and breakfast bars; Mr Lutz for the awesome cookies, and Cher for making a guest appearance!
We are so fortunate to have the support of each and every one of you! Our success could not be had; without your loyal support.
UPDATE August 2010
At this time, we still have NOT selected a name for our Mascot. We received about 30 entries and we are still in the process of making a decision.
It's NOT too late to submit your entry!
+ + + + + + + + + + + + + + + + + + + + + +
Our new Mascot was introduced, and our "Name the Mascot" program was launched.
We had several submissions during today's event, but will run the contest until May 13th; and the winner will be posted on May 15th.
Below are three photos of the Mascot; leading the walk, doing the Zumba, posing with Cher.
To enter, send an email with your recommendation for his/her name to
info@friendsofsuzanne.com
. Please be sure to include who you are, and how to contact you should your submission be the lucky winner!
The winner will be in a photo shoot with our Mascot and the FOS Board. The picture will be published in area newspapers and a prize will be awarded.
I need a name, enter our contest!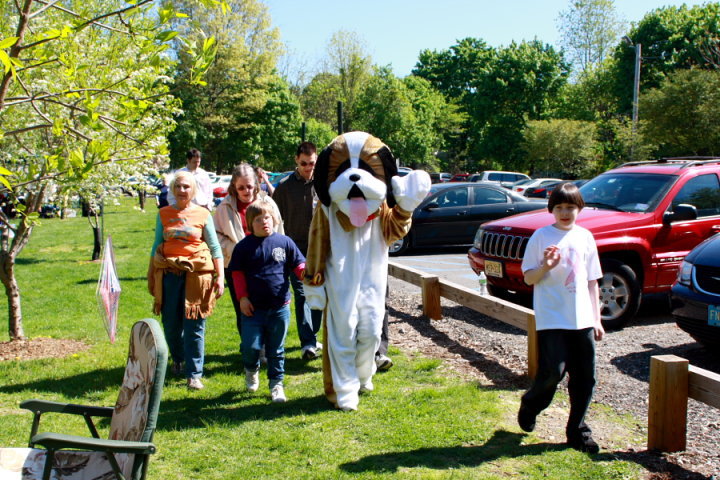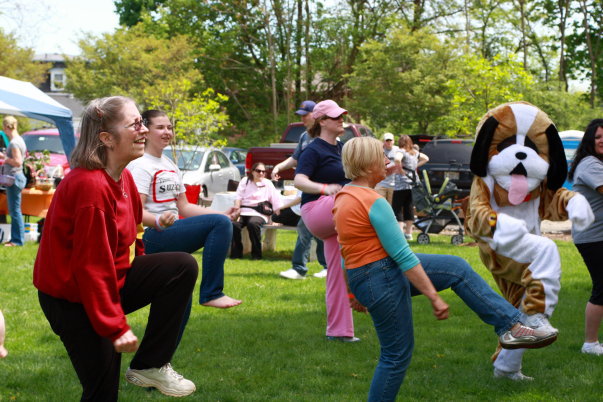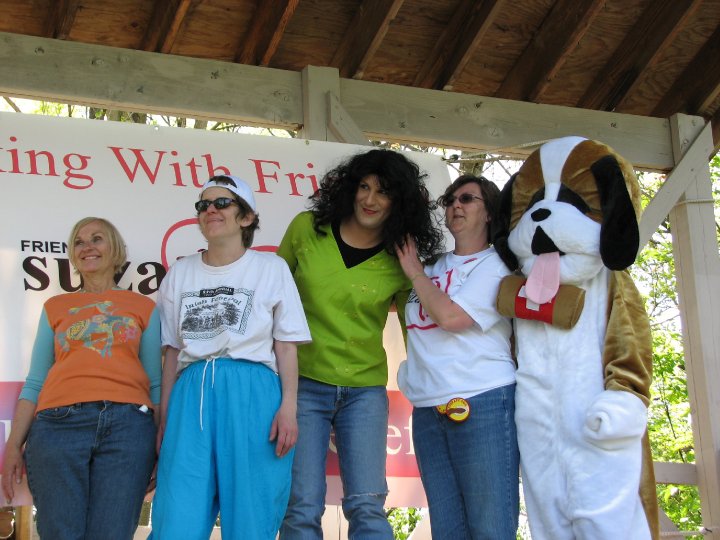 Perfect ending to a perfect day!
Musical Entertainment donated by:
Lead Singer Syndrome
Lead Singer Syndrome is about writing songs that are intertwining melodies (aka counterpoint) as opposed to just lots of chord changes. In the Baroque style of classical music, such as Bach or Vivaldi, each instrument played a melody that complemented the others instead of simply supported a singer or a lead instrument.
We have taken this concept and incorporated it into different styles of music - classical, funk, latin, heavy metal.
Although it is not a hard formula we force ourselves to adhere to, it is a philosophy that helps us create interesting instrumental music.
Ashley Lennon Thomas
Brian Colburn
Brian Colburn
Acoustic / Jam Band / Folk Rock
| | | |
| --- | --- | --- |
| | | "Sit Back, Relax, & Let The Music Be Your Friend..." |
Brian has always been a fast moving force, using various line-ups and staying out in front of the public both as a solo and with a group. Colburn has also been a proponent for several different benefits where he has offered his time and skills for those that needed them.
Sean Faust
Sean Faust is an individual with a vision. His songwriting captures the essence of a fresh kind of approach that reels in it's listeners like a fish unknowingly biting it's bait. He brilliantly crafts songs that can be acoustic rock, new-age and all around progressive at the same time. Sean is known for his live shows, which cannot be considered simple entertainment, but an overall fantastic experience. He is inspired by, "Life, sunsets, big skies and large landscapes," and attributes his musical influences to bands like Pink Floyd, Dream Theater, Phish, The Beatles, Live, Rush, Grateful Dead, Yes and many more.