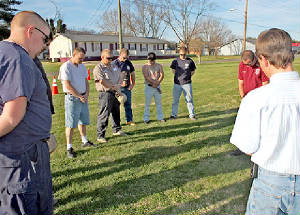 Jackie P. Messick, Of Church Hill, Died Enexpectedly On March 16
BY BILL JONES - STAFF WRITER
Members of a firefighting class being taught by Greeneville firefighter Ryan Holt have voted to purchase a "memorial brick" in honor of a classmate who died March 16.
Holt, who also is chief of Greene County's Caney Branch Volunteer Fire Department, said Church Hill firefighter Jackie P. Messick, 31, had begun the basic firefighting class in January along with members of several other Hawkins County fire departments and the Baileyton-based United VFD.
However, Messick died unexpectedly on March 16 after undergoing surgery at a Kingsport hospital for a medical condition unrelated to his training class.
On Wednesday evening at the Hawkins County Rescue Squad in Rogersville, members of the class voted to purchase the memorial brick for installation at the Tennessee Fire Academy in honor of Messick.
David Schnepp, a member of the Bulls Gap VFD, said the memorial brick will be placed in a walkway that leads to the firefighters' memorial at the Tennessee Fire and Codes Academy in Bell Buckle, Tenn.
During a Wednesday evening class training session outside the Hawkins County Rescue Squad building in Rogersville, the members of the 64-hour class gathered for prayer in memory of their late classmate.
Following the brief ceremony, Church Hill Fire Chief David Wood recalled Messick, who was an employee of Church Hill's street department, as a "dedicated firefighter."
He noted that most employees of the Church Hill municipality serve as members of its fire department.
That, he said, helps to ensure that sufficient manpower is always on hand to respond to fire calls during regular business hours in the Church Hill area.
Messick, who had been a member of the Church Hill Fire Department for the last five years, was always among the first firefighters to respond when a fire alarm sounded, Chief Wood said.
Wood noted that the only fire call Messick missed occurred while he was on his honeymoon last year.

Mailing Address:
PO Box 2479
Church Hill TN 37642
423.256.3565